Gift Voucher
If you are not sure which experience to choose from, especially when choosing for someone else, a Gift Voucher is the solution.
Gift voucher is a voucher with a nominal amount that you can use towards any product within www.yellowdoor.co.id
It is beautifully packaged to make the giving and receiving an extra special one. It can be delivered to yourself or directly to your intended recipient.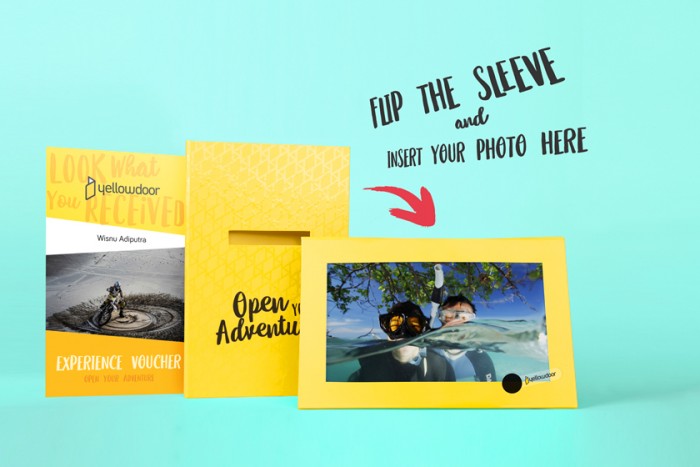 A Gift Voucher can be delivered digitally by email or in a beautifully designed package at a small extra cost. It can be sent to your email/ physical address or to your intended recipient.
We have put a lot of thoughts into the gift package design where it can also be used as a photo frame bearing the picture from your adventure. We hope it will make your experience more memorable.
To use a gift voucher, just pick any experiences you like from www.yellowdoor.co.id and add them to cart. At payment there will be a box where you can put in the gift voucher code and the amount will be deducted from the total.
If the product you chose is more expensive than the voucher nominal amount, you can just pay the remaining with the payment method listed. Unfortunately at this stage we cannot refund you the money should the amount of the product is less than the nominal in your voucher. We are striving to improve though so hope to be able to offer this service soon. In the mean time, you can also add another product and thus experience more adventures.